Digital X-Rays


Digital x-rays are quickly becoming the standard in dental imaging. they allow the doctor to get a much better view of your teeth and potential dental conditions. the digital imaging software allows the doctor to see a number of different views of the tooth to gain a better understanding of the proper course of management. Digital x-rays provide a great benefit to the patient. Not only are they an excellent diagnostic tool, but they decrease radiation to the patient by over 80%.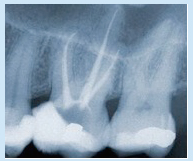 VELscope®


During a dental exam, the doctor will check your neck and oral tissues for lumps, red or white patches or recurring sore areas. Screening for early changes in the oral tissue can help detect cancer at a stage when it can be more successfully treated. Our offices uses the most modern technology for oral cancer screening and detection. The VELscope® System is a revolutionary hand-held device that provides dentists, hygienists, and other oral health care professionals with an easy-to-use adjunctive mucosal examination system for the early detection of abnormal tissue. The VELscope® System is the only adjunctive device cleared by the FDA and Health Canada to help discover oral mucosal lesions that might not be apparent or visible to the naked eye.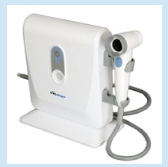 DIAGNOdent


The DIAGNOdent laser caries detection aid removes the doubt from treatment decisions regarding hidden caries ore questionable stained grooves. With over 90% accuracy in its reading, the device's ability to see into occlusal pits and fissures enables dentists to treat sub-surface caries lesions with confidence.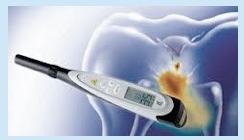 Intraoral Camera


Intraoral cameras are an excellent means of allowing the patient to view potential dental conditions in their own mouth. It is much easier to understand what is happening in your mouth if you can see the problem on a computer monitor. This digital image can be utilized to provide information to insurances and other doctors if necessary.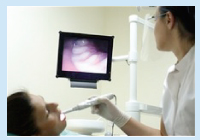 Rotary Endodontics


Our office uses rotary endodontics to perform root canals. This method utilizes a drill to perform the root canal procedure. Rotary Endodontics is a technical system of performing the root canal utilizing a hi-tech electrical handpiece. This instrument often makes the process much faster and allows the dentist to perform the process with less risk of complications to the patient. This makes the whole treatment experience much more pleasant.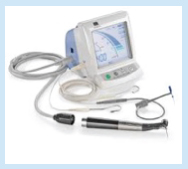 Laser


Laser Dentistry is becoming a new level of quality care for patients. The ability to perform more procedures in less time without sacrificing patient care and comfort are an added advantage. Laser treatments are much gentler traditional electrosurge and result in little or no recession, swelling, less necrosis, and a quicker post-op healing process. Additionally, laser surgery is substantially less invasive therefore generates less bleeding during the procedure. Lasers are predictable, precise and produce a reduction in the need for suturing.